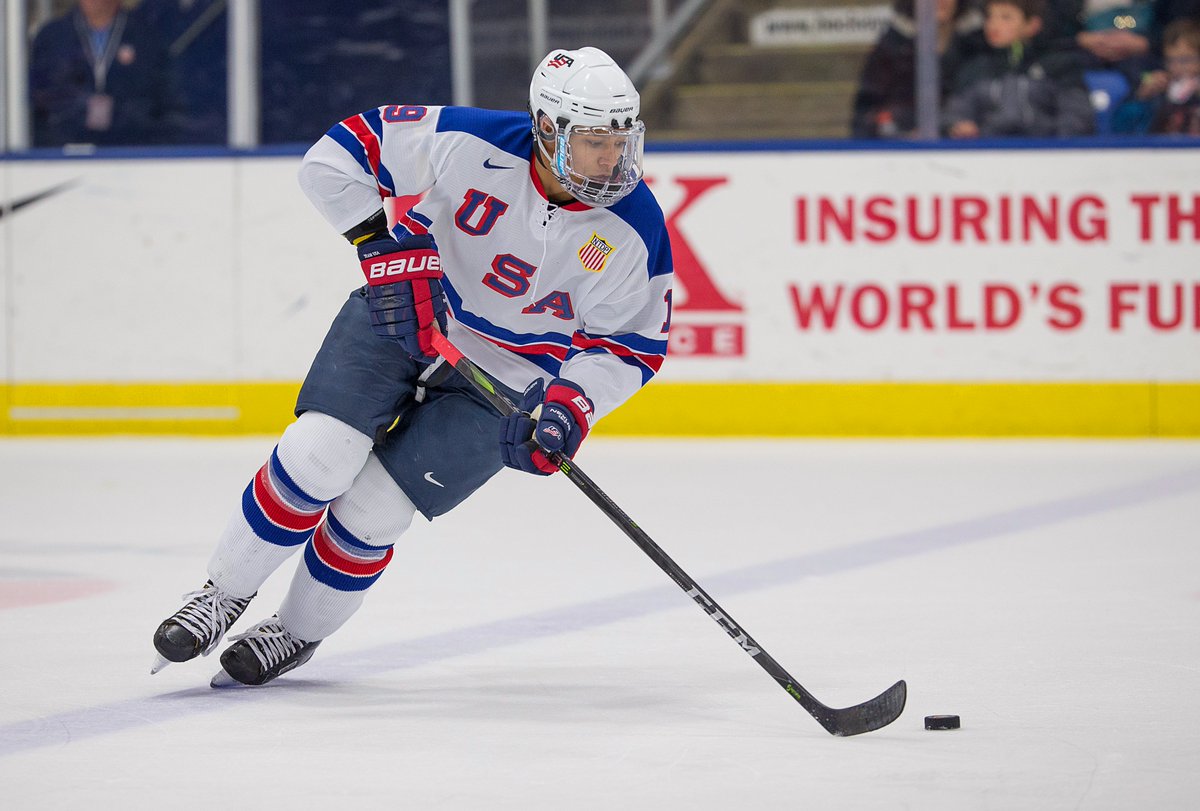 (Photo: Rena Laverty/ USA Hockey) 
BY JACK LeGWIN
Hockey in Minnesota is a way of life, and for K'Andre Miller's it has been no different.
"I moved from Hopkins to Minnetonka just so I could pursue a hockey career," Miller told BTS Sports. "I thought it would be the better fit for me. Minnetonka was the more dominant team at the time, and throughout the years they'd been very good. Playing in Minnesota, there's nothing like it. Other states, they say they have the best hockey, but in Minnesota you can't go wrong. There's a great atmosphere at the state tournament and everything about Minnesota hockey I love. Going through that Tonka Hockey Program were some of the best years of my life and I miss it every day."
When he got the invitation to play at the National Team Development Program (NTDP) in Plymouth, Miller said he believes he made the right decision.
"My mom and I had a couple long conversations about what would be the best decision for me at the time," Miller said. "In terms of helping me to develop for the next level, I thought that going to the NTDP program was the right move for me. My teammates are the best 21 players in the country. You get better every day because of the high compete level as well as skill level. It's been an unbelievable experience."
Miller, originally a forward, has made the transfer over to playing on the blue line, and he admits there were some growing pains, but that he's learning along the way.
"This is my third full year playing D," Miller said. "It's been a hard transition, I'm getting better and more comfortable with it though. I do go in and talk with my coaches as well as watch video about the things that I could get better at. It's helped me to develop into the player that I am today."
A Wisconsin Badgers commit, Miller said the decision for him to play for Head Coach Tony Granato was an easy one.
"It wasn't a very hard decision to be completely honest with you," Miller said. "I narrowed it down to two big schools, but with those new coaches at Wisconsin, I knew I couldn't go wrong there. With Coach Granato recruiting me, he told me I'd be the first recruit to play under their names, so that made me feel pretty special. It was a great experience meeting the guys and meeting the coaches. I made that decision pretty easily."
While there can be significant distractions from the process of moving toward the next level, Miller is focused on succeeding in the present.
"Right now, I'm just keeping focused on the rest of this season," Miller said. "We have a big tournament at the end of the season, but before that I'm going to be working hard in the weight room, and working with my teammates to get better. As for the draft, I just want to get drafted as high as possible."
Currently projected as borderline first round pick by multiple publications, Miller said he hadn't believed that would even be in the realm of possibility when he first got to the Team USA program.
"I didn't really believe it was even an option," Miller said. " That's been my goal since I was a kid, I love the game of hockey and the NHL, so getting to that first round or just to getting drafted in general, would be a dream come true. These last two years have really pushed me though. The next two or three months are really key for my development, as we have some big international tournaments coming up. I'm looking forward to that and I'm hoping to to play the best I can."
Wisconsin has a history of placing very good two-way players into the NHL, and Miller is hoping to be in the next wave of talent that the Badgers program sends to the league.
"A lot of talent has come through the Wisconsin program with Joe Pavelski, Jake Gardiner and Ryan McDonagh guys like that," Miller said. "I know that I'm going to a great program, with Coach (Mark) Osiecki coaching us on the back end. He taught those guys and helped to develop them into the players they are today."
Miller is fully aware that there is more to being a hockey professional than the game on the ice. He himself benefit significantly from have a role model in a particular Minnesota Wild forward.
"My first role model in the NHL was Mikko Koivu," Miller said. "He showed me what I could be on and off the ice. We had a cool interaction for my 10th birthday. He tried to give me one of his sticks, but the equipment manager had packed everything up so he told me the next home game that I went to he'd find me and give me a stick. The next time I was there he noticed me in the crowd and gave me his stick. Ever since then, I've tried to model myself after him, knowing that kids are looking up to me."
Miller currently has 18 points (6G- 12A) through 38 games, with a +7 rating.